One person's trash is another person's treasure. This is the basis of Freecycle, an online community where everything is free. As a member of an online group in your area, you can post items for giveaway that you no longer want, and alternatively you can acquire items that others have posted for giveaway. If you need something in particular, you don't have to wait until someone posts it. You can post a request for specific items. People on both sides of the transaction work to keep items from the landfill. There are almost five thousand groups with more than eight million members worldwide. Groups can be found at freecycle.org.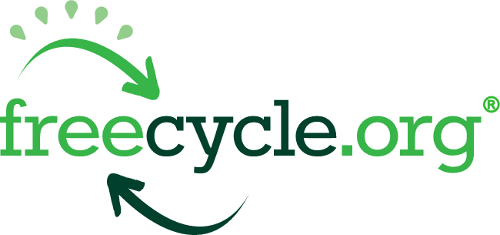 Yes, some people (like us) have given away an ugly 1950's-era dresser with broken handles, but there are creative people out there who love the idea of stripping and painting old furniture and putting on new handles to create a cool, "new" dresser. There are also plenty of things listed that can be used without refurbishing, such as two-thirds of a box of new shingles, which could be used to roof a child's playhouse or a potting shed. I have a friend who picked up a "new" area rug for her family room.
Freecycle can help you de-clutter your house. You may not have thought anyone would want your ugly (fill in the blank), but someone probably does. I was ecstatic when I saw someone giving away the twenty-volume, 1973 Better Homes and Gardens Encyclopedia of Cooking because I collect old cookbooks. If your stuff has outgrown your house and garage and you are one of the millions of people who rent storage space elsewhere, you definitely need to become acquainted with Freecycle. Have a yard sale first, if you feel you must get some money back from all of your clutter, but when the sale is over, start posting on Freecycle.
There are also listings for free items on Craigslist, and many people are now posting things they want to give away on their Facebook page. I have a friend who recently picked up a free hot tub that another friend posted on Facebook.
Even if something can be recycled in the traditional sense, it is often recycled into something of inferior quality, whereas you might be able to upcycle an item—create a new item that is superior to the original. I have seen a number of beautiful greenhouses online that were made from old windows, men's shirts that were made into pillows, a wine bottle turned into a tiki torch, and an old sweater that was turned into a pet bed. Of course, traditional recycling is better than sending things to a landfill, but repurposing an item is even better.
This is an excerpt from Ecothrifty: Cheaper, Greener Choices for a Happier, Healthier Life by Deborah Niemann.